We bring this very interesting article to you in two installments. It is the first part of a report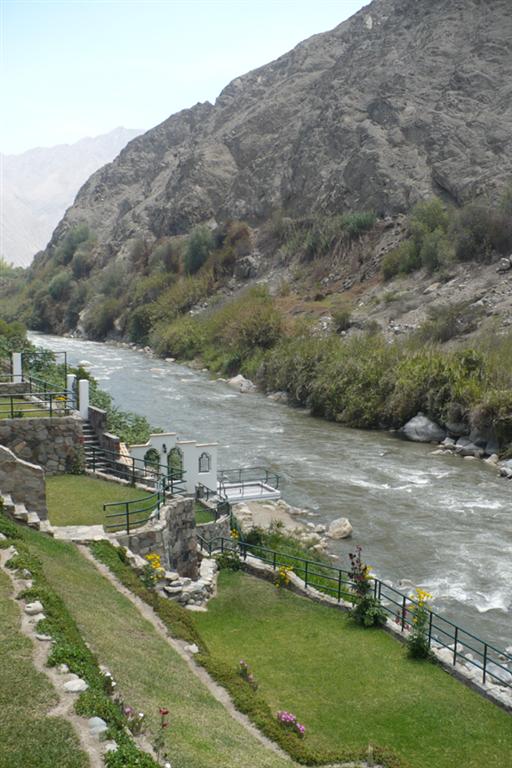 on the admirable producers of our national firewater.
It isn't by chance that we refer to the earth as mother: "mama pacha" (Quechua for mother earth), fertility and refuge in all cultures, in all eras. Female in degree and strength that owes nothing to and does not fear that which is male. One should not be surprised thus that wherever Pisco is born there is a woman giving birth to it; pushing it from the grape to the winepress, from the darkness of the earthenware jug to the light of the still, and the delightful immaculate flow of the Peruvian firewater.
We have called them the Pisco ladies out of prudish modesty when we should call them the females of Pisco. Vitality is their arm, perseverance is their strength.
We look for them in the expanse of the vineyards as water seeks its source. There they are, diligent, making the wheel of the days spin despite all adversity.
Each woman is a living history of marked loneliness, struggles, anxieties, passion. Everyday stories that silently build up our national soul and to which we must open windows, ears, eyes and our palates. We must open them wide to the Ladies of Pisco from Lima and Ica.
Pisco Sisters
Don't give them milk, because in the Bohorquez bodega the day's work begins at five in the morning. Knocking back drinks of forty proof liquor mixed with a little bit of lime juice are sisters Marina Judith and Luz Angelica. They have incorporated this into their daily spirit because "it rots our teeth and makes the day shorter." That is the way they were born and raised, and continue to grow.

We have talked also of marked loneliness. In their case, their father Juan Miguel Bohorquez Lengua, left thirty years ago on that trip from which one never returns.
The seven Bohorquez brothers and sisters decided, with their inherited wisdom, that they would equally distribute the vineyards, but not the El Angel Bodega, which was placed under the care of Marina and Luz. It is in their stills that they all would distil their Pisco in disciplined order of the harvest, each depending on the variety of the firewater.

Both grew up in the Los Piscontes neighborhood, in the district of Los Aquijes, where the macondian lineage did not have any knowledge of matriarchs, and the sturdy men dominated their families with their military look and all-powerful nature. "They ordered and they were listened to," but now they are all proud of their very macho father's daughters.

Women should be in the home, not thinking about going out into the vineyards or fields—much less looking at them.
And so they learned by watching. "We were born in the earthenware jugs." They have understood so clearly that two years after their father's death, when the bodega was in crisis, they left their comfortable lives in Lima to return to the fields. "When we least imagined it, we felt bound together."

Marina wanted to eternalize the memory of her father and bottled Pisco Don Juancito. Luz makes her own with Mozandero. However, despite the fact that each distilled alcohol has a very particular character, each with their own grape and alcoholic proof, you can tell in mouth and nose the indelible Bohorquez seal, whether pure Pisco (the unforgettable Torontel) or in the acholado Pisco.

Their drive has taken them to always innovate. They changed from bulk and carboy sales to the 750 non-recyclable bottles, they replaced the corn cob with metal cap. There were struggles, capitalization, decisions to be made until they were able to get the denomination of origin, the standardization of their Pisco. Macho Pisco made by women; and like them, it is jovial and opportunistic.

Two lineages
Whoever has supplied themselves with Pisco from sisters Marina and Luz and takes it with him or her, will be taken by celestial hosts to the Bohorquez restaurant, a few blocks away from the El Angel Bodega, where the king reigns but does not govern. Juan Miguel Bohorquez Jr. has preferred to take charge over the cuisine in order to leave his wife, Eduvina Achuache, with her knowledge and intuition to take over the Pisco elaboration.

In this case, two Pisco lineages have come together. The Achuache family produced a classic Pisco in their bodegas and Eduvina can make similar Piscos from her bare hands. She was born in Ica; her father had a business of basic crops that included drinks, and was introduced to the art and science of distillery in the Pariña bodega, owned by Tiburcio Hernandez.

Unlike the Bohorquez sisters, Eduvina went with don Ricardo Acuache Uchuya from the very edge of the vineyard to the pots and the fire itself. She and her brothers learned firsthand.

"I remember riding a donkey with barrels full of Pisco on both sides." She tried her first glass of Pisco at 10 years old.

Like anyone who owns vineyards in the Pampa de los Castillos, in the area known as Pachacutec, Eduvina is convinced that "Pisco is the fruit of love." She believes this because the waters that give life to the grapevines in this area (considered to be the best Pisco grape producing area), would never have reached the area if the Inca himself had not fallen in love and built the Achirana in order to requite his love for one of his subjects.

But love can also be the fruit of Pisco. "I was lucky to marry Juan Miguel Bohorquez, from a Pisco family. With my sister-in-laws, we always have a toast in the morning. That way we can continue to move up during the day!

One thinks that they are listening to analogies when they hear her say that the secret to good Pisco is the care that is given to good grapes. "They must be virgin, not pawed at. I must look for grapes like this myself."

Care is even given to the lighting of the fire. "It has to be with vine shoots from the grape vine itself. That is what my dad taught me. He said 'wait until the little flame has formed, medium sized, blue, not red, that dwindles so as the Pisco does not get smoky.'"

There are those who should inherit the liquid silver. Out of the three girls that she has (Yuly, Marlene y Lis), two have received their Pisco baptism, traveling on a copper serpent. There will be Pisco lineages for years to come.
Written by Manuel Cadenas Mujica
Translated by Katrina Heimark