Last week we were Tasting at the XX National Competition of the 2013 Pisco Harvest. It was truly one of the best Pisco competitions in which I have had the honor to participate as a Taster. The samples were impeccably presented, the service was impeccable as well as the tasting room. The event took place in the Westin Lima Hotel and Convention Center in San Isidro, one of the best and most elegant Hotels in Peru and South America. As the Master of Ceremonies and great friend and Pisco aficionado said during the inauguration, "Today Pisco will touch heaven," and it did. The Regulating Council of the Pisco Denomination of Origin organized the event, and the President of the Competition's Organizing Committee was Engineer Lyris Monasterio and Ms. Paula Rina Elias was the Tasting Director. The event also had, for the second time, the welcome presence of an observer from the International Organization of Vine and Wine (OIV). Peru pertains to this organization, and this time observer was Ms. Regina Vanderlinde from Brazil.
We had a delay regarding the competition, which should have taken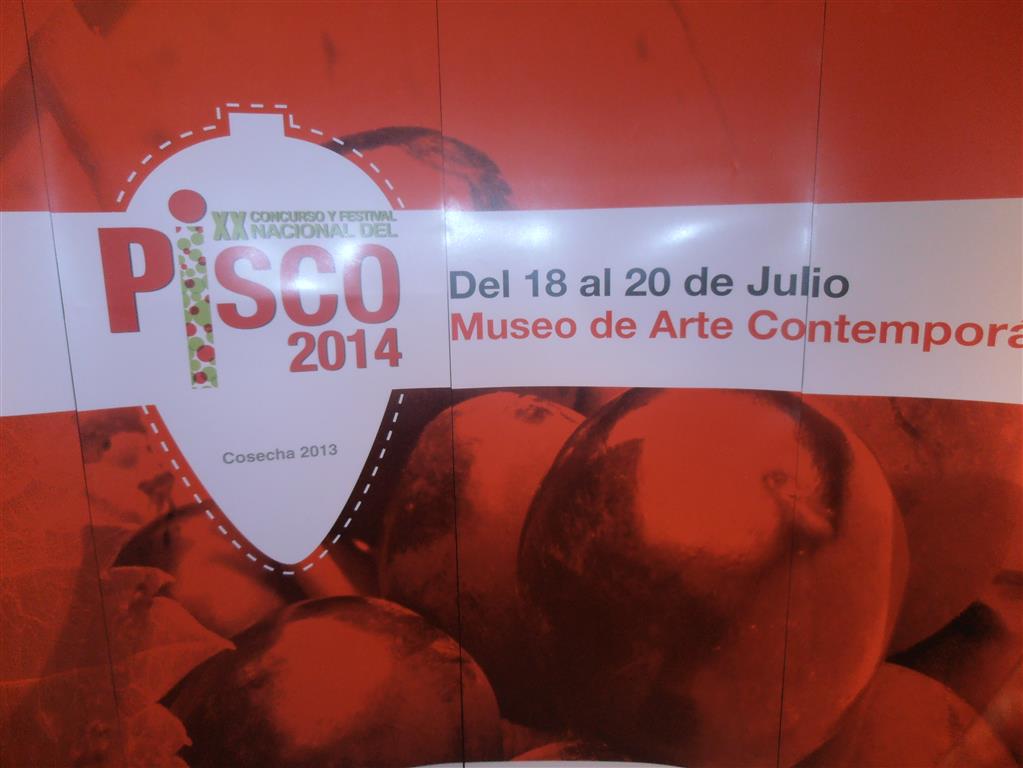 place in early May; however, due to the change in the Minister of Produce, the event date was cancelled. However, as they say, every cloud has a silver lining.
So, starting on July 16, we began to evaluate the presented samples: 271 from the five Pisco regions. The environment inside the tasting room was ideal: with good natural and artificial light, 7 tasting tables with everything we needed to fulfill our roles, and 6 tasters at each.

Preference was also given to the Tasters from Provinces that are Aspiring to be Official, which is why we did not have, for example, in the case of Tacna more Tasters than in Lima. In general, there was very good order to the event, which ensured that its success was guaranteed.
Something important to highlight is that every time we have a competition, all of the Tasters sign a sworn declaration that indicates if the Tasters are producers or master distillers, and if we are participating in the competition with samples. In those cases, the Taster is not allowed to taste at the tables where his or her Pisco is being evaluated, and is made to evaluate Piscos of other varieties.

The first days were dedicated to the Regional Competition, and we evaluated the best Piscos from the five Pisco regions: Tacna, Moquegua, Arequipa, Ica and Lima independently. From there, approximately 30% of the winners from each category go on to participate with zero points in the National competition which took place on that Friday, the 18th. This time there were 111 samples, which resulted in 46 Piscos that received awards, two Grand Gold Medals for the Quebranta Pisco "Paca Paca" from Ica and the Green Must Acholado Pisco "El Sarcay de Azpitia" from Lima.

The celebration, as happens every year, ended in a great party in the Pisco Festival which took place in the Museum of Contemporary Art (MAC) in Barranco. There we shared our experience and enjoyed the best Piscos from Peru and the world.

See you in 2015,

Livio Pastorino Wagner
Editor of the magazine elpiscoesdelperu.com, Pisco bilingual magazine, Specialist and Pisco Taster, Sommelier, Registered in the Pisco Tasters Registry of the CRDO-Pisco No. RCO-034-2011,Co-Anchor in the Dionisos Radio Program "Let's Talk about Pisco," Professor at the Institute of Wine and Pisco. Member of the Panel of Tasters "Pisco Tasting Nights" which publishes the blog: www.nochesdecata.blogspot.com
Translated by Katrina Heimark
July 2014