In this interview of our guest producer for the month of July, we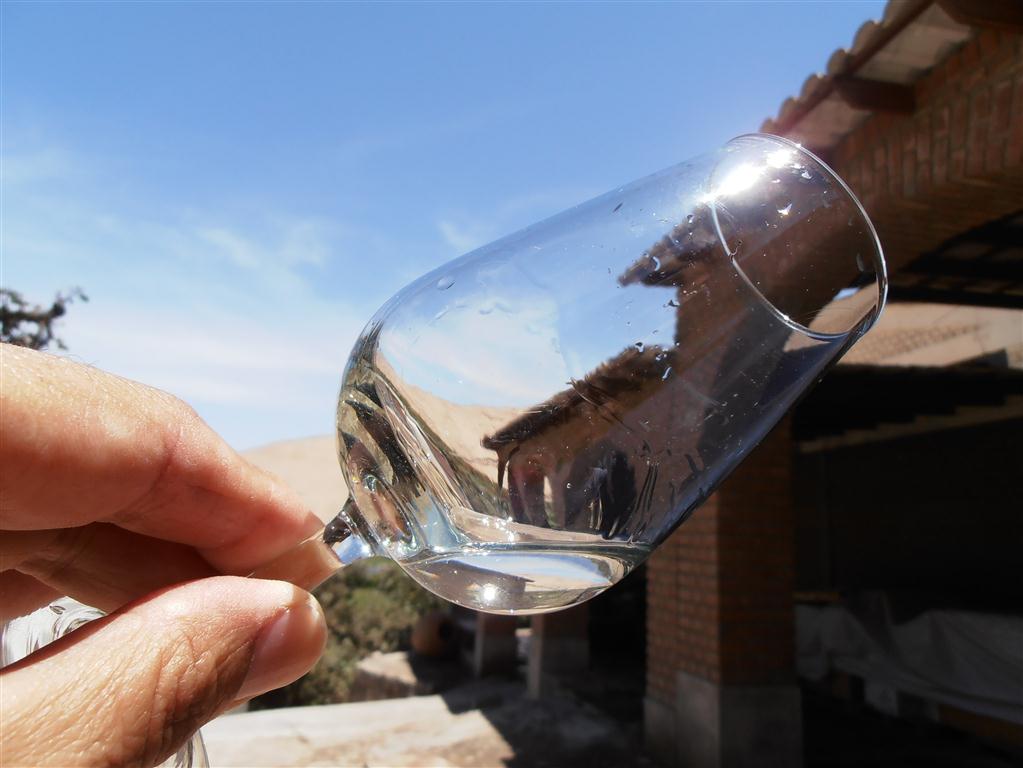 have the lovely presence of Mr. Jaime Marimon Pizarro, General Manager of the Bodega "El Sarcay de Azpitia." This Bodega is located south of Lima at Km. 80 on the South Pan-American Highway in San Vicente de Azpitia, also known as "The Balcony of the Heavens." It is located on the right side of the Mala River Valley.
1. Tell us, Mr. Marimon, how did the Bodega "El Sarcay de Azpitia" get its start?
In January 2005, I shared a rustic family lunch with eight friends who live in Azpitia. The men were on one side trying the Piscos and the women were gathered with the children and playing games.
It was not a surprise to learn during the conversation of the Pisqueros that we each wanted to produce our own Pisco with our grape fields. Taking the common idea-strength to produce Pisco, the pleasant chat flowed until we unified the criteria and the efforts to set up a tranquil and modern bodega that would fulfill all the tchnical requirements for production, and would put our recognized Azpitia Pisco in the place and space that a Pisco of its quality deserves.
Today the bodega has two 1000 liter stills, made with pride in Peru, and is preparing to begin 2008 with two more stills. Our fields add up to about 32 hectares of Pisco grapes of the following varieties: Mollar, Moscatel, Quebranta, Italia, Torontel, and Albilla. We do all this to always provide our Pisco to the most demanding market.
2. What does the word "Sarcay" mean?
Sarcay, N.M. Peru: It describes the archaic structure of sticks supported by uprights and/or adobe, above which the Pisco grape clusters grow in Azpitia, a zone of the Mala River Valley. Generally they are installed above irrigation canals. They are also known as Pergolas in Italy, Galeras in Ica, Peru, and Parron in Spain.
3. What grape varieties do you plant and what Piscos do you produce?
Currently we have 6 varieties of Pisco grapes. Of the non-aromatics we have Quebranta and Mollar, and of the aromatics we have Italia, Moscatel, Torontel and Albilla. We produce pure Pisco from all of these varieties as well as Acholados and Green Must Piscos.
I should tell you that the Green Must Pisco from Mollar grapes from this year's harvest is going to give a lot to talk about…
4. As a producer of Pisco "El Sarcay de Azpitia," in your opinion, what characteristics should a good Pisco have?
Basically, and objectively, that which the technical norms dictate in view, nose, mouth, retro, etc. But principally among that which is substantive, the best characteristic of a good Pisco is the way it is remembered by the drinker.
That is the difference between a good Pisco, a regular Pisco, and a bad Pisco. We can't forget that on the other side, in order to have a good product, 60% comes from the raw materials and another 40% from the bodega. That is why it is very important to do efficacious work in the fields with the plants, and very efficient work during its production. There have been cases in which grapes from the same field were transformed in Pisco, and one won the Gold medal in a national competition and the other didn't even get an honorable mention.

5. Why is resting important for the quality of Pisco?
Because the production of Pisco is not finished when it is distilled—that is only when the process of distilling finishes. But the Pisco has not yet finalized its chemical process. It is like a green fruit, only then it begins another stage: resting, "aeration," "oxidation," decanting, the entering of light, etc. That is what helps it modify its structure and "accommodate" its characteristics until they are perfect. It is very difficult to (only those who know will be able to) know if it will be a good Pisco. Resting is to Pisco like the sun is to plants. Here we can apply the phrase: Gray hairs (resting) are not a symptom of aging, but rather of knowledge (value).

6. There are many brands of Piscos that are not very prevalent in Lima despite the fact that their consumption has increased. We would like to know why this is occurring.

Those who think that selling Pisco is easy are wrong. One thing is to drink it as a guest, and another is to buy it. As in all business, product rotation is important and a bottle of Pisco in a home does not rotate in the same way as soap or soda. This is one of the biggest obstacles for the small producers in order to venture away from their payments and towards the market, even if they have a good product. They prefer to sell bottle to bottle in their home before from cash register to cash register. The principal consumption is being capitalized upon by the organized bodegas that are highly efficient, with proven quality products that have denomination of origin, along with lasting financial models and their own fields.

The big warehouses where the most Pisco is sold and rotated (more sales points) do not facilitate the sale of a national product such as is our Pisco. The point of entry for the client is different than that of the producer.

7. In your experience, what limitations are there for the industry in exporting Peruvian Pisco?
Let's see…if a bodega of Japanese Sake wins the Great Gold Medal of the Rising Sun and comes to Peru with their product, do you think they would be able to sell even one bottle, out of curiosity, to someone in the middle segment of the population? Excepting, of course, the Japanese colony…

Well, we do the same thing with our Pisco in Japan, Europe, Asia, North and South America.
So the only and first market in which one must access abroad is that of 4 and 5 star Peruvian and international restaurants, and the colonies of Peruvians abroad. In the first case, if we present it as for Pisco Sour, we have the limitation that presents itself with the lime, and therefore, the rotation will be very low. We still aren't even talking about price. Second, in order to reach the Peruvian colonies or Peruvians abroad, the marketing would be so expensive so that it isn't justifiable with the current prices. Imagine that there are importers from abroad that are importing boxes of 12 bottles of 750 ml at $36 the box…!!!!!! With this price, there is not any campaign that could begin to compete.

We must educate our people that good Pisco is to be drunk pure as an aperitif and digestif (before and after dinner). Also, in the same way Peruvians send their families money from abroad, we can incentivize Peruvians that they should send good Pisco from here.

Of course, making Pisco a brand at a global level, as was done with Vodka, is no cheaper than 8 million dollars. And it must involved guaranteed quality production and timely delivery in so far that no less than 150,000 bottles are produced in the first year and by the 5th year that there are no less than 1,800,000 bottles in order to be sustainable. It is a great challenge, isn't it?

8. What plans do you have for the near future?
Now our bodega is totally installed and we are waiting for the end of the resting period in order to bottle the 2007 harvest. The capacity we have installed is ok. We expect to expand by 2010.

Today we are pushing our brand and selling well. We are going slowly but surely; don't forget that we have been in the market since December 2006—and only six months ago we won the National Gold Medal with our Pure Pisco from Mollar grapes, which was also given the Gold Medal in Brussels. Oh…and I must remind you that the bodega is open every day of the week for those who want to visit and receive detailed explanations regarding the production of Pisco El Sarcay de Azpitia and try the Pisco varieties that we have. And also appreciate the unique landscape that the area offers!

9. What prizes have you been awarded?
They are been many in this short period of time, and that encourages us. Our first prize is the public's awareness and this converting itself into sales. We do not want to be like those generals who were full of medals but never won a battle. Our battle is with our client in giving them quality products, opportunely in time and place. That is the best prize and that is what we work for.

10. Thank you for everything. Is there anything else you'd like to add?
Yes, I would like to highlight that a big reason for the results obtained by our Piscos is owed to the professionals who work for us. I'd like to highlight Engineer Carmen Gonzales Q. Iquena, who works in the bodega, and Sergio Garcia, who works in sales. Finally, I'd like to repeat that the Bodega is open seven days a week, so we'll see you soon!

Tranlated by Katrina Heimark