A little bit of history...
Chinese migration to Peru and the arrival of rice
The arrival of rice to Peru begins with contemporary history and the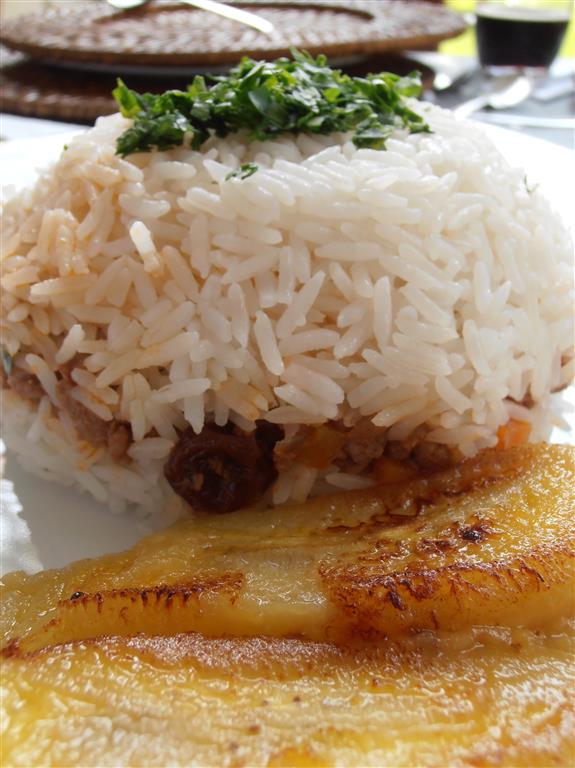 voluminous Chinese immigration, which began in 1849. The massive arrival of 90,000 Chinese immigrants until the year 1874 resulted in the concentration of a huge labor force. A large part of this work force was destined to work in the costal haciendas, where the immigrants were forced to work for 8 years. The Chinese also worked as servants in cities, especially in Lima, in the guano islands, and also in railroad construction.
On one hand, the Chinese needed rice for their daily diet, as well as a form of payment. The landowners were obligated to supply a daily, fixed amount of rice as part of payment for the work the Chinese did in their agricultural properties. Therefore, part of the obligations of the landowners was to make sure they had enough rice (and in large quantities) stocked. Obviously this daily requirement was something new for Peru, and the country began to commercialize this product, as well as the surge of commercial rice-importing houses. Before this point in time, Peru did not produce this grain.
Beginning in the 19th Century, the price of rice increased due to the demand to provide the grain as a daily food source for the Chinese. Therefore, the landowners were forced to plant rice in order to avoid conflicts with their workers.
"[…] Starting in the second half of the 19th Century, a new phrase began to resonate, in our country, preceding the rewarding act of eating: "Sec Fan," which, due to its complex pronunciation would soon divert into Shic Fan, later Chi Fan, and later became and propagated as Chi Fa, which literally translates to "Come and eat rice!" As the years passed, some immigrants abandoned their agricultural work in order to move to some coastal cities. There they opened small--but innumerable--restaurants that little by little aroused the curiosity of the locals. In this type of restaurant, which later was called Chi Fa, a new type of cooking, and therefore, eating, was popularized […]" (http://www.generacion.com)
From the previous paragraphs, we can infer that rice began to expand and appear in restaurants dedicated to the preparation of meals with rice, which today is a side dish that is almost always served with Peruvian food. Therefore, it is a product of high national demand, whose production has increased over the years. However, this has occurred to the detriment of native Peruvian products such as the oca, mashua and kiwicha.
In conclusion, since rice first came to Peru, Peruvian cuisine has changed, creating meals that combine well with rice, since rice is today the principal ingredient of many Peruvian dishes and desserts.
(i) Cfr. Olivas 1996: 191 – 192
(ii) Cfr. Olivas 1996: 192
(iii) Cfr. Olivas 1996: 192 - 194
Bibliography:
OLIVAS, Rosario (1996) Cultura, Identidad y cocina en el Perú. Lima: Universidad de San Martin de Porres.
Generación (2010) (http://www.generaccion.com/secciones/gastronomia/articulos/?codarticulorevista=132) Website which contains information about "Chifa" restaurants in Peru. (Visited June 31, 2010)
http://servidoperonoconvido.blogspot.com/2010/06/la-llegada-del-arroz-con-las_02.html
"Arroz Tapado"
Ingredients
3 cups of cooked rice
½ kilo of finely chopped beef
1 finely chopped onion
1 garlic clove, finely minced
1 teaspoon paprika or cayenne pepper
Oil
2 hardboiled eggs, chopped
50 grams of raisins
6 olives, chopped
1 tomato, peeled and chopped
1 teaspoon of pepper
2 teaspoons of chopped parsley
Salt, to taste
Quebranta Pisco, for flavor

Preparation
Since the rice is already cooked, we will make the filling first. Heat oil in a frying pan, add the beef until it is browned, add the onion, garlic, the paprika or cayenne pepper, flambé with Pisco for added flavor. Add the tomato, and salt and pepper to taste. Once everything is cooked, remove from heat and add the raisins, the chopped hardboiled egg and olives. Stir well in order to mix with the sauce for the filling.
Presentation
Serve in individual molds. Before filling, line the mold with a little oil or water in order to easily remove the rice mixture. First fill with a layer of rice by pressing it into the mold. Then add the filling. Add another layer of rice (press it firmly in order to prevent it from falling apart). Place the mold on a plate, and remove. Decorate with chopped parsley.
Chef de Cuisine Johan Knell Lavaggi
Translated by Katrina Heimark
Pisco bilingual magazine