Pisco / Peru more than 400 years of history & tradition (1613-2013)
The Quebranta grape variety originates from the Pisco valley along the southern coast of Peru.
Pisco is processed with Quebranta Grapes. This is the variety that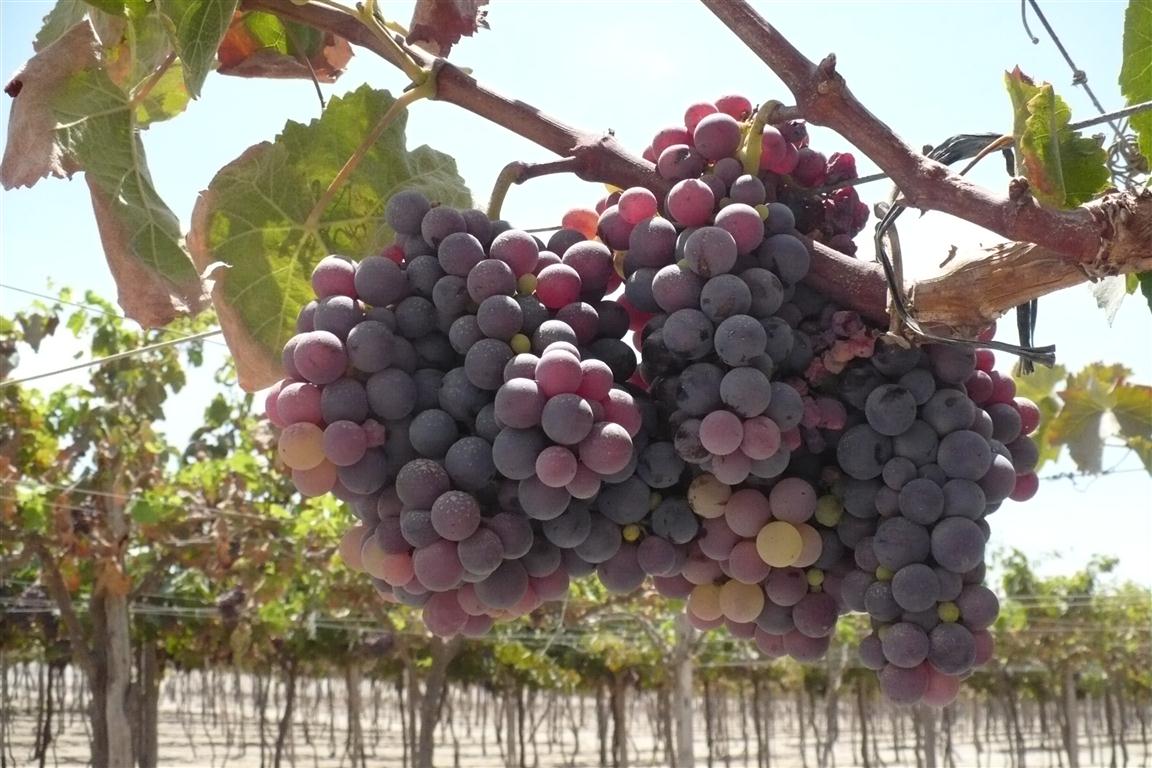 comes from the genetic mutation from the black grape brought by the Spanish, which happened due to the plants' adaptation to the environmental conditions (rocky soil and desert climate in the Pisco Province, and which extends to the valleys in the departments of Lima, Ica, Arequipa, Moquegua and some valleys in Tacna where there are very similar conditions).
The Quebranta grape is a non-aromatic variety, with a very particular taste, that gives unmistakable flavor to the grape firewater, Pisco. Later, other types of
Pisco were developed, with aromatic varieties of grapes, such as the Italia, Moscatel de Alejandria, Torontel and Albilla.
According to renowned researcher Fernando Rovira, the quebranta grape is an almost round berry, with a thick and tough skin. It is normally large, although its size and color depend on various factors related to its harvest.
Its pulp is meaty and sweet, but a bit harsh to the taste. It is considered to be an excellent Peruvian variety, as it is not similar to any other variety
known around the world. Its rustic nature, a product of its acclimatization to the different soils in the grape producing valleys along the Peruvian southern coast, has also allowed it to become resistant to the Grape
Phylloxera Insect.
The presence of nodules and the insect itself has been proven to be within the roots of the quebranta grape plant, but without the insect affecting in
any way the grapes' production. This characteristic makes the grape plant itself serve as good root stock (Fernando Rovira, La Industria del Pisco en el Perú, Instituto Nacional de la Promoción Industrial, Banco Industrial, Lima, 1966) (Fernando Rovira, The Pisco Industry in Peru, National Institute of Industrial Promotion, Industrial Bank, Lima 1966).
According to scientific studies carried out by the National Agricultural
University, the following components were found within 100 grams of quebranta grapes:
-Water 81.4 g
-Proteins 0.5g
-Ether Extract 0.1g
-Sugars, Carbohydrates, Fibers, and Other 17.7 g
-Ash 0.3g
-Minerals:
Calcium 14.0mg
Phosphorus 11.0mg
Iron 0.4mg
-Vitamins
Thiamine 0.05mg
Riboflavin 0.07mg
Niacin 0.11mg
Ascorbic Acid 0.70 mg
-Calories 66 cal
-Sugar content in the must: 269 grams per liter
-Tartaric Acid content in the must: 4.22 grams per liter
Translate by Katrina Heimark
elpiscoesdelperu